To see what is special about us
Our next tours:
Bronze Age Aegean:
Santorini and Crete
We vary the tours each year.
Other itineraries we have done:
North West Greece
Macedonia & Epiros
North Eastern Greece Macedonia

click on place names which are underlined for more information
web site created & maintained by
Jane Maw Cornish ©
last update: 14th July 2017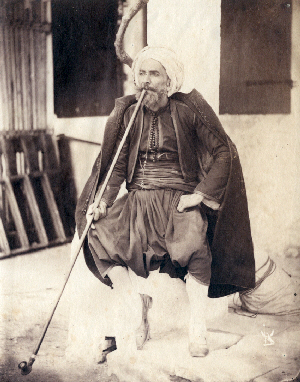 photograph of a Corfiot taken by
John Davenport Shakespear in 1858
this photo is the only surviving evidence of how these pipes were smoked, it is now on exhibition in Corfu
for a collection of beautiful sketches of Corfu by Theresa Nicholas and books by John Waller see www.yiannisbooks.com
Relive the legends of Homer and the tragedies of Sophokles; walk in the footsteps of Pausanias and wonder at the glory of the works of Praxiteles and Phidias; enjoy the breathtaking scenery as we travel through olive clad mountains and fertile plains where you half expect to glimpse Herakles on one of his labours.
Our unique tours offer a chance to see all the major archaeological sites of ancient & classical Greece as well as taking you off the beaten track to less visited but fascinating places. In just a week we journey through over 3,000 years of Greek history, from Minoan to Byzantine, as well as enjoying the vibrancy of modern Greece.
We do two tours a year, one in May/June and one in September/October.

Bronze Age Aegean: Santorini and Crete Now Full:
September 30th to 8th October 2017. 2 nights on Santorini, 3 nights in Heraklion and 4 nights in Ayios Nikolaos. Cost £1,190 per person sharing a twin or double room, £1,330 per person for sole occupancy.
Mainly Peloponnese May 27th to June 4th 2018
3 nights Athens, 1 night Delphi, 1 night Olympia, 3 nights Nauplion
Visiting Athens , Marathon, Delphi, Olympia Vassae, Mycenae, Ancient Corinth, Ancient Nemea, Epidavros and Argive Heraion. provisional price £1,040 per person sharing a twin or double room; £1,235 for sole occupancy.
Tour costs include all travel in Greece, comprehensive information on the history, sites & museums, and all hotel accommodation (B & B, en-suite). It does not include entrance to sites and museums or lunch and dinner for which you should allow about £200-250.
The tours are organised & led by sisters Jane Maw Cornish and Mary Kehoe.
Travel to Greece, with Aegean or British Airways, is booked through Thornton's Travel and travel and accommodation in Greece is arranged by Christos Patakis of Anassa Travel, Athens, with whom we have been working since 1995.
Note: These privately organised tours have been running since 1975
to see what is special about us
to check availability, for more information or to be put on our mailing list
contact Mary Kehoe on 07882 694189 or email maryekehoe47@yahoo.co.uk
or Jane Maw Cornish on 029 20 704314 or email jmawcornish@gmail.com
The Greek-0-File is a publication written and edited by Sylvia & Terry Cook. It is packed with articles on every aspect of Greece and Greek life. You will find a lovely description of our tour of the Peloponnese in October 2003 in Greek-o-File Volume 3 and of the 2005 Northern Greece tour in Greek-o-File volume 5. Volume 8 has 3 articles of particular interest: the story of the photographs of Corfu taken by Jane & Mary's great great grandfather in 1858, some recipes of his wife's (including Wild Boar) and an article by Judith Hepper about taking children (including Jane and Mary's grandchildren) to the ancient sites of Greece.
To order visit www.greekofile.co.uk

Join the Damaris group on Facebook!
Part of the Parthenon frieze, now magnificently displayed in the new Akropolis Museum

The best of the many guide books to Greece is produced by Blue Guides

They have a special offer on all their Guides for Damaris travellers