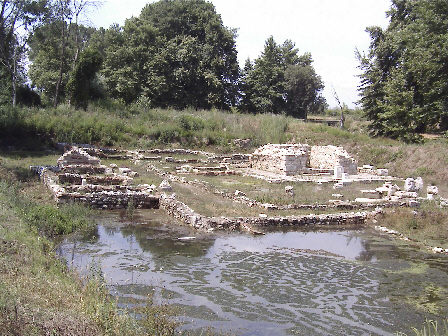 The sanctuary of Isis at Dion,

The next day is a 'free' day in Thessaloníki visiting the Palace, magnificent triumphal Arch & Rotunda of Galerius Caesar, the Roman Agora, the Turkish Baths, White Tower, bazaar, St Sophia, & much more, leaving time to enjoy a drink on the sea front! The museum has a magnificent display of Macedonian gold.

Then we go first to Veryina (ancient Aigai), now confirmed as the old capital of the kings of Macedon. It is a breathtaking experience: the Great Tumulus contains Philip's tomb & two others, together with a staggering array of articles found in them. Here is the gold casket, which contained the bones of Philip. We will also visit the site of Philip's palace & the theatre where, in 336 BC, he was murdered & Alexander crowned king.

Next we go to Dion, another idyllic site, ( nightingales, hoopoes and rollers here) at the foot of Mount Olympos. Sanctuaries to Demeter, Dionysos, Isis, & Zeus were built here in the C6th BC & Alexander held a massive party & gave supplication to Zeus, before his campaign to India. There are also substantial remains of the Roman city including a theatre, odeion, public baths & the House of Dionysos which has a fine mosaic floor.