The Stadium

This is a real treat! Set amidst pine, holly oak and olive trees are benches thoughtfully provided at selected 'viewing points', so you can sit in comfort (and shade) to contemplate and let your imagination take you back to ancient times. The viewing points are numbered to take you round in a logical sequence except that they were arranged (and the excellent guide book written) before the tunnel was completely excavated. I really do recommend Stephen Miller's 'self guide' book, it is concise, graphic and very readable, (and a modest price).

In a very good state of preservation here are the locker room where athletes prepared for their events, the tunnel through which they entered the stadium and the stadium itself. The locker room was rectangular with Doric columns on three sides supporting a tiled roof and an open courtyard in the centre. This was where the athletes oiled their bodies

The entrance to the tunnel is in the left hand corner of the locker room. It is one of the earliest true vaults in the Mediterranean (late 4th century BC). Look out for the ancient graffiti, where athletes waiting for their turn scratched their name (and sometimes added kallos, beautiful.) The stadium runs from south to north with the southern end built into the natural amphitheatre between the ridges of Evangelistra Hill. The track was 600 feet long (this was the unit of measurement called stadion.) Round the sides was a stone channel which brought fresh water for drinking and for wetting the track surface. We can see several 'settling basins'which may have been to collect dirt and/or for drinking from. Most of the 100 foot marker posts remain at the sides of the track. The races were run down the length and back, not round the edge as now, with the runners turning round a post at the end; one of these has been restored for the modern games. The judges, a panel of ten men from Argos who wore black in memory of the baby Opheltes, sat on a wooden platform on the side opposite the tunnel entrance The spectators sat on the banks on ledges roughly cut out of the soil; coins found at the site show that, as at a modern football match, the supporters from each city state sat together. The only stone seats are opposite viewing point 10. The only prizes were a palm branch and a fillet tied round the head for the winners and a crown of wild celery for all the athletes. The winner had a free meal every day for life from his home town.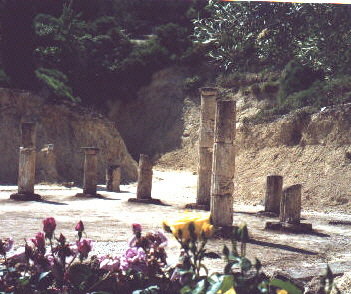 Locker Room
The Tunnel from the Stadium