Delphi was the most famous of the cult sites in Greece and the shrine of the Oracle.
Set on the slopes of Mount Parnassus and with panoramic views over the 'Sea of Olives' towards the Gulf of Corinth, several hundred metres below, the site at Delphi is spectacular and awe inspiring.

Even now when we have to share it with dozens of coaches and hundreds of tourists the sense of magic is almost tangible. It is easy to see why for the ancient Greeks this was one of the most sacred places and the site of the navel of the earth. (At sun rise look out for eagles soaring above the site.)

The Oracle at Delphi was probably the most prestigious in the ancient world and was consulted by Greek city states, foreign states and private people on matters ranging from wars and conspiracies to marriage. Advice was often ambiguous but imparted a sense of security in a seemingly chaotic world.

The sanctuary was the centre of a web of political intrigue - the priests made it their business to know what was going on! Those coming to consult (the Theopropoi ) sacrificed a goat, examined the entrails for omens, and with their questions on lead tablets, queued to enter the temple. The Pythia, a priestess who was a peasant woman of over 50 (and of impeccable conduct!), drank from the Castilian Spring to purify herself and chewed laurel leaves. Then sitting on a tripod over the chasm inside the temple she inhaled apparently hallucinogenic fumes, and gave mumbled answers interpreted, in hexameter verse, by a priest (prophete). The answers were often ambiguous and on occasion led to unexpected results; when Croesus was told he would destroy a great state he never imagined it would be his own!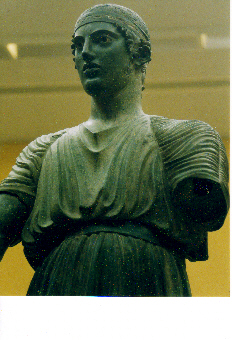 Bronze statue of the charioteer